Our Charism

and Spirituality
The Congregation of the Sisters of the Immaculate Heart of Mary Mother of Christ is an Apostolic Religious Congregation of Pontifical right under the jurisdiction of the Holy See. Our Institute was founded in 1937 by an Irish Missionary to Nigeria, Archbishop Charles Heerey, C.S.Sp
Our core mission is to seek the perfection of love in the service of God through the profession of the evangelical counsels of chastity, poverty, and obedience which is lived in the community. As missionaries, we serve and witness to the compassion of Christ wherever the work of charity demands our service.
As a Marian Institute, we are specifically drawn to Mary's Immaculate Heart.
Our Motto is "AD JESUM PER MARIAM" (All to Jesus Through Mary).
Our founder's concern for the status of women, the underprivileged, the sick, children, and for good Christian family life led to our foundation, and we dedicate ourselves to the special care of children, educating the youth, care of the sick and underprivileged, family life, retreats and marriage counseling.
Our charism is compassion: to be the face and hand of Jesus touching lives everywhere we are called to serve. The spirit that spurs us on is humility, as we mirror our Master who humbled himself even to accepting a shameful death on the Cross.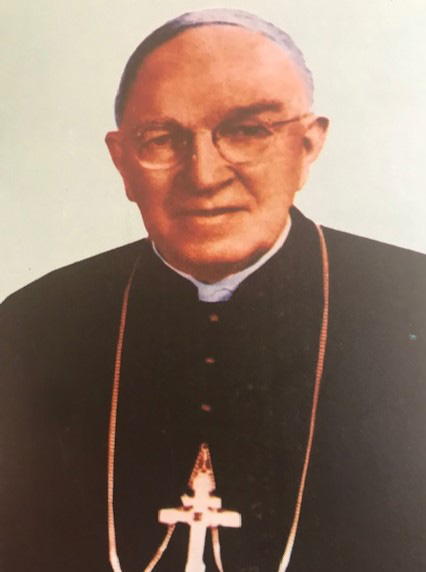 Archbishop Charles Heerey C.S.Sp of Blessed Memory
(November 29, 1890 - February 7, 1967)
Archbishop Charles Heerey, C.S.Sp. is one of those great heralds of Christ to whom the Church owes much for their promotion of her missionary activities.
- Francis Cardinal Arinze
Nourished by prayer and daily Mass and braced by common life and filial devotion to the Immaculate Heart of Mary, we promote Gospel values through our apostolates/advocacies.
Wherever we serve and in whatever we do, IHM Sisters serve with cheerfulness and humility that comes from the heart; hence, we are affectionately called "The Smiling Nuns" or "The Blue Nuns."
Our Apostolates, also called advocacies, include:
The Current Central Administration Team
The leadership of our institute is broadly divided into Central and Regional Administration. The latter is a delegated office of the Central Administration. The Central Administration is elected by the General Chapter held every six years and can be renewed once for a total of not more than 12 years.
Structural Division and

Mission Outreach
The Religious Institute of the Sisters of Immaculate Heart of Mary Mother of Christ is structured in nine (9) regions spanning fifteen (15) countries in three (3) continents. One of the important injunction of our Founder was "They are to be missionaries".
By the grace of God, our sisters are currently serving the people of God in many dioceses in Nigeria, Ghana, Kenya, Sierra Leone, Tanzania, Republic of Benin, Tchad Republic, Cameroon, Italy, England, Germany, Ireland, Scotland, Canada, and the USA.